April 22, 2021
Supply Chain Advancements That 2021 Will Further Witness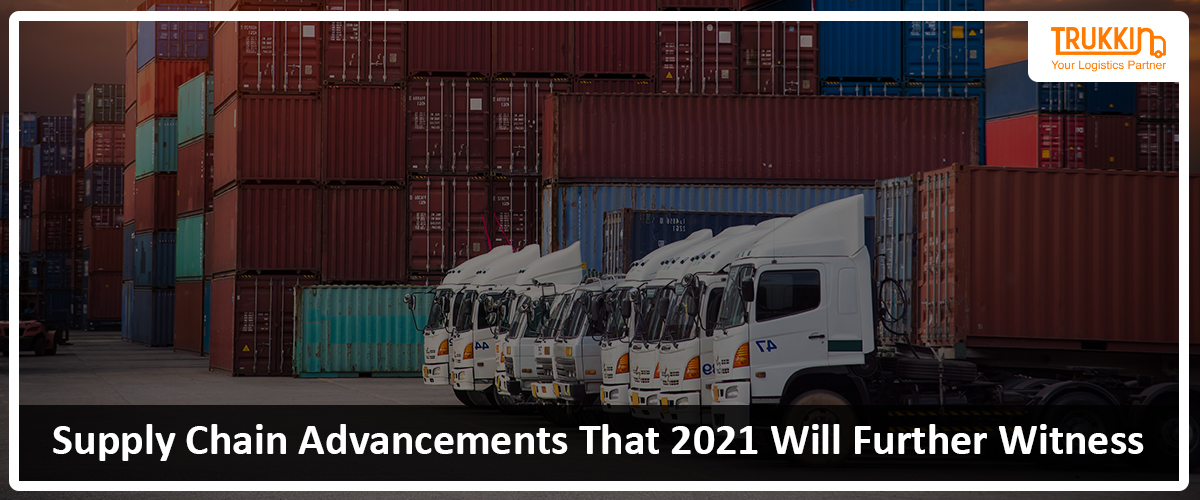 With Coronavirus impacting the world economy, all the industries have undergone drastic changes. Logistics is among them where noticeable changes have been witnessed for the supply chain management. People are turning towards online shopping that has created immense pressure on the supply chain to meet demands within the time frame.
Trukkin is a company that works hard in keeping up with increased demand with innovative strategies. 2021 has introduced some exceptional supply chain trends that are hard to miss out on.
Blockchain Is Creating A Wave In Supply Chain Management
In the logistics industry, data is of crucial importance, which helps with optimization and making the whole process efficient. For any business, being customer-centric can help in the long run where logistics plays a great role. While many think it is all about several steps until the product reaches the consumer, blockchain helps by eliminating the unnecessary intermediate steps.
From suppliers, transportation and consumers, everyone can be on the same platform interlinked to make the whole process a lot easier. It offers great security and eliminates piracy, damage, and less disruption during customer service.
Agility Transforming The Way Supply Chain Functions
The logistics industry is a versatile one and needs to be flexible in order to accommodate change within the shortest time possible. Before, logistics was manual and believed in a more traditional approach which was familiar. But with 2021, technology has brought forward a diverse modification to eliminate disruption.
Agile supply chain ensures that the working individuals behind it understand and can predict any risk that might arise. It helps in resolving issues related to:
Production
Packaging
Supply
Delivery
Sustainability To Cater To The Modern Customers- Green Logistics
Even a few years ago, sustainability and logistics were never used side by side. Many companies like Trukkin are now moving towards a new trend in the supply chain- green logistics. Green logistics is not just good for the earth but helps with brand goodwill too. It is lucrative and meets the demand of the conscious customer.
For example, even a few years ago, during shipping, bulky packages were being used that increased cost and harmed the environment. After introducing sustainability in this industry, minimal packaging is done to save costs and minimize carbon footprint.
These are just the basic trends that logistics companies will incorporate while many already have. Trukkin is a reliable company that believes in offering premium services and saving the planet. We believe in a customer-centric approach, and our services are dynamic and customized, keeping in mind client requirements.