March 3, 2021
How to prepare your fleet and stay organized during a global crisis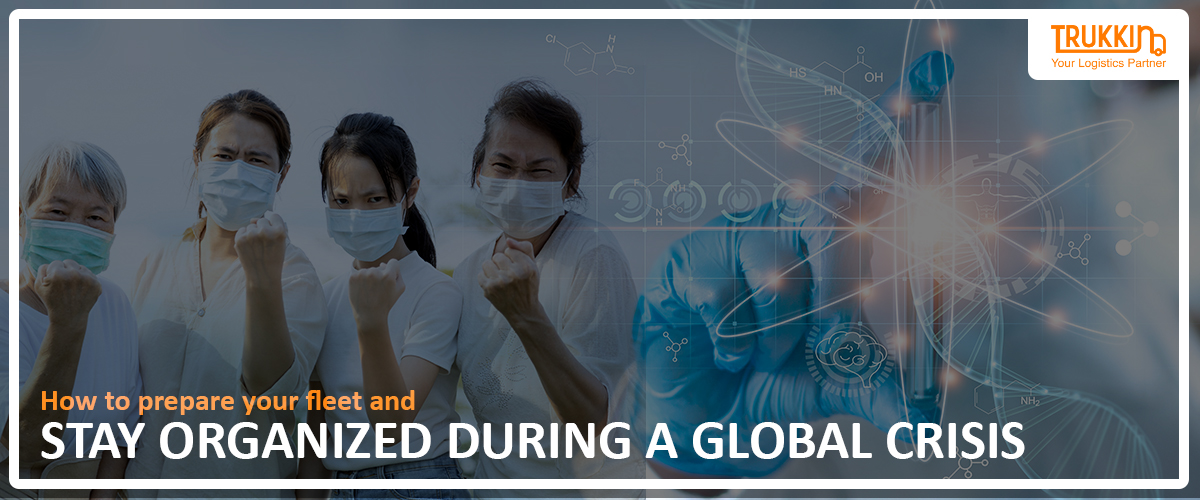 Covid-19 has taken over the entire world and affected every sector from left, right, and center. The transportation industry is no exception. During these unprecedented times when the mobility of products is much more important, the organization and management of fleets is a priority. Trucking companies are responsible for transporting medicines, groceries, and other important items across the nation whose smooth flow has to be maintained to have a fully functional and sustained society.
The government has eased out many regulations on the trucking industry during the pandemic. The working hours of the commercial truck drivers have also increased from 11 to 14 hours depending on the type of goods they are carrying.  With increased work, trucking companies and fleet owners have to pull up their socks and find intelligent as well as efficient ways of managing their fleets.
Here are a few ways to prepare the fleets for surviving and thriving in a global pandemic:
1.   Safety and security of drivers
It is the job of fleet owners to ensure the safety of their truck drivers.
While loading the cargo, one must make sure that at no point is the vehicle overburdened with goods.
The trucks must be well-maintained and fully operational. Engine health should be checked.
Apart from that, truck drivers must be insured, and pay cuts should be minimized during a time like this.
Social distancing should be maintained at checkpoints and docks.
Frequent check-ups should be done.
Truckers should not be forced to work more than their stipulated hours.
2. Efficient communication
Communication is the key here. Continuous check and tracking should be done to perform the task most cost-effectively and punctually. Fleets should be connected at all times via dedication formats. With more work on the table, it is essential to organize them, which is only possible by better and clear communication. It would be good for truck drivers if the entire process and people accountable for each task are familiar to them.
3. Data management
Notes and requisitions should be planned for the upcoming travels. The collection of quality data is important. Current updates of roads and regulations will always be helpful when one is on the clock constantly. Powerful analytical tools should be consulted to keep in check personnel and company information.
4. Maintenance
Driving for such long hours with limited hauls is a tough job. The first and foremost thing that fleet owners must do is keep check for regular maintenance of their carriages. Investment in more technicians is a valuable addition leading to a swift response to the current conditions. This practice saves time in the longer run.
It is the need of the hour to keep the fleets secure and organized for better functioning of the transportation system.