December 29, 2020
HOW BLOCK CHAIN CAN ENTIRELY REVOLUTIONIZE LOGISTICS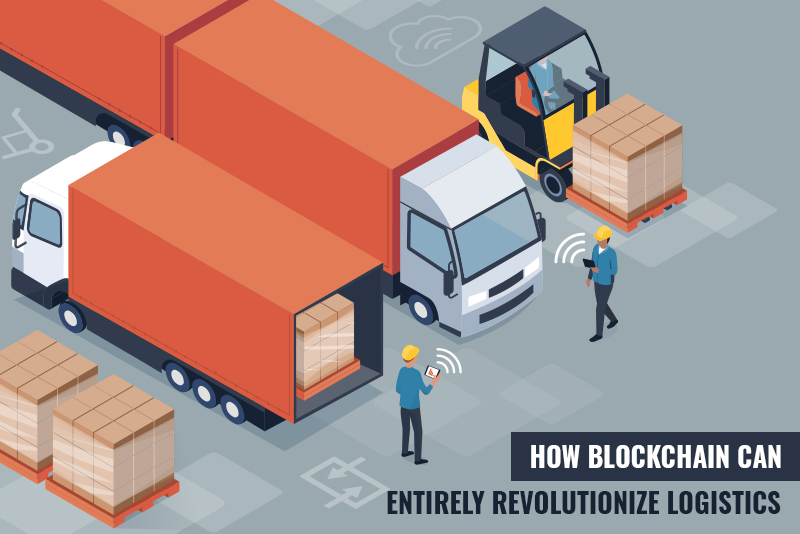 Blockchain is a digital database technology that allows you to record all transactions for a product and store its data. Featuring data sharing and immutability, blockchain works with a peer-to-peer network to link different undertaking specks.
Following such advanced features, blockchain can serve as a lead for the logistics industry concerning all financial applications.
Adding on to this, here's how blockchain technology can benefit the logistics.
REDUCE TRANSACTION COSTS
With a rise of administration and processing costs to twenty percent of transportation's overall costs, companies are often found tied up in struggles for receiving payments. Herein, blockchain-enabled solutions can help elevate the process—relieving the vast supply chain industry from the overhead charges.
While many supply chain startups lead with blockchain technology, more is to understand its profitability and importance to join in.
MAINTAIN TRANSPARENCY
Transparency is often a questionable aspect of the logistics industry. And blockchain can work the best to frame things right—allowing everyone to follow the variations in the chain of supervision.
With blockchain, every transaction is recorded on a block distributed over several nodes across multiple copies. Hence, you get access to all information, and nothing remains a hidden elixir.
EASILY AUTOMATED OPERATIONS
Blockchain cuts down the time and costs by automating the entire business process with certified smart contracts. It stands the potential to unite large chain supply networks using a decentralized system. The integrated blockchain solutions allow companies for easy processing and execution of operations or strategies.
FACILITATE FASTER TRANSACTIONS
Blockchain calls for agreement as no disturbing attributes edge the transactions. Everyone in the chain gets to work with the same version of the ledger. And this makes the transaction settlements more efficient. The mutual trust and harmony amongst the parties will encourage quick access to the goods and services.
PROMOTE TRACEABILITY AND AUDITABILITY
With the transaction history stored on a block, blockchain provides instant solutions for the auditors to verify and examine compacts and trade. This works in tracking all details of a product right from its source to processing, storing, and the sell-by-date intact. Similarly, customers can also track their orders with blockchain technology.
WORK AS A CLOSE AND SECURE SYSTEM
Blockchain is remarkably protected, with each block strongly linked with other blocks from both sides. Hence, there is a closed chain structure with no central authority over the whole system. And there is no risk of any third party haul into your system.
To avail of the best logistic services in UAE, look no further than Trukkin for seamless logistics solutions. Reach out to them for an instant quote customized as per your requirements.