December 29, 2020
CORONA CRISIS IN LOGISTICS: 6 TIPS TO HELP YOU SUSTAIN YOUR LOGISTICS OPERATION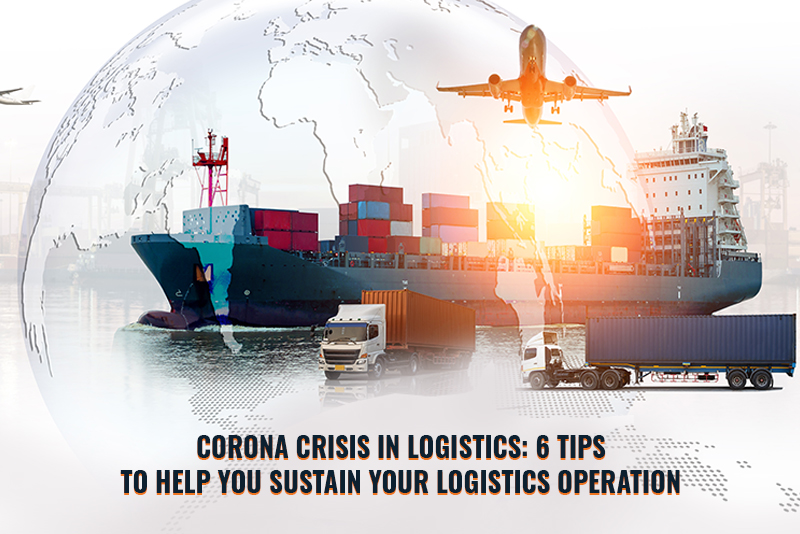 With the ongoing pandemic raging on, it has become harder for several companies to fulfill their commitments to their customers, including the logistics operations. The vast spread of the virus has everyone concerned about their health, while also working twice as hard to earn their living.
However hard it may be for several employees to continue working as a logistics service provider, many of them have decided to continue their services, but not without proper security measures and guidelines.
ANTICIPATE THE DELAYS
It is natural during such a period to have more delays in receiving your goods than originally. Whether it is import or export, prepare yourself for the possibility of delays and work on the schedule accordingly in order to avoid the disruption of the supply chain.
ESTABLISH AN EMERGENCY MANAGEMENT CENTER
Undoubtedly, fulfilling customer's demands is a priority for any logistics operation. Nevertheless, the employees of any company are just as crucial, if not more. To accommodate the needs and demands of your employees, install a 24×7 emergency center to solve their queries and problems. This will ensure an employee's trust in their company ten folds.
PRIORITIZE HEALTH AND SAFETY
To battle the ongoing effects of the coronavirus pandemic, the only successful way is to take proper safety measures and guidelines.
Provide your workers and employees with masks, sanitizers, and PPE kits to ensure their safety to the maximum.
Implement social distancing measures in warehouses and other logistics centers.
Sanitize containers and vehicles regularly.
PREPARE FOR THE LONG HAUL
No matter how much everyone desires for the world to go back to normal, undoubtedly this may emerge as the new normal for a few years to come. Hence, it is essential to prepare yourself for the possibility that a renewal of the economy and boosts in many businesses may not occur as easily predicted.
EFFICIENT USE OF ONLINE SERVICES AND TECHNOLOGY
The main element to avoid the spread of coronavirus is to limit your physical touch to yourself. In such a case, it is crucial that you employ various online platforms and developed technologies to spread your business and also follow the required safety concerns and guidelines. Using various software, bills can be automatically generated in order to avoid the risk of physical contact.
PRIORITIZE CUSTOMER DEMANDS
It is natural to have a low supply of employees during a pandemic. In such a scenario, you must prioritize among your customers' demands and orders to figure out which shall be shipped urgently and which ones can be laid off for a few days.
To employ the services of a renowned logistics service provider in Dubai which follows all the safety guidelines and procedures, contact Trukkin and ensure safe delivery.